For the cyclone season from November 2016 to March 2017, the Sanma Red Cross - Emergency Response Team (ERT) alongside the Sanma NDMO office took the initiative to refresh the knowledge of its volunteers and others that are directly involved in Disaster work in Sanma province on Disaster Risk Reduction Principles.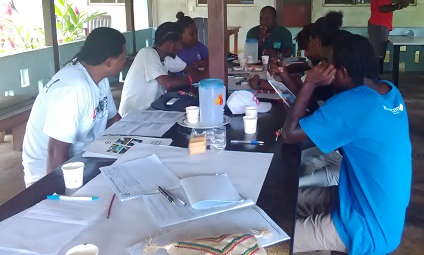 The Disaster Risk Reduction Principles refresher course which last a week was facilitated by the Red Cross Disaster Risk Reduction coordinator - Mr Agustine Karae. It has equiped the participants with the right knowledge that they can utilize to assist Sanma Community's should any disaster event occur in this cyclone season. As a co-facilitor, Mr Kensly Micah, the Sanma NDMO officer took this opportunity to inform the participants about the NDMO reporting and organizational structure to help the participants understand where to go to and what to do during a disaster event. With that he also introduced and explained how to use the Fes Komuniti Assessmen Fom.
The knowledge gained from the refresher course should enable the participants to assist the Sanma Provincial Disaster committee to do assessments, response and distribute relief to affected victims of any disaster event.