OFFICIAL MEDIA RELEASE. 3:27pm Monday 29th May 2017 - NDMO APPOINTS FIRST FEMALE NEOC CONTROLLER DURING TROPICAL CYCLONE DONNA



**********************************
The Vanuatu National Disaster Management Office (NDMO) appointed the first female Controller in the National Emergency Operations Centre (NEOC) last week to coordinate the ongoing response and relief in the wake of Tropical Cyclone Donna.
The NEOC is activated for all disasters and major emergency operations requiring coordination. Liaison officers from government agencies and partners are represented in the NEOC to work with the NDMO to:
gather information, issue situation reports and operational maps;
conduct damage assessments and coordinate support, including donor assistance;
make logistical arrangements for relief supplies and distributions; and
compile assessment reports and prepare briefing papers.
Ms Alice larem Sanga, who is the NDMO Senior Disaster Management and Climate Change Advisor, was appointed to take charge of the NEOC at the beginning of last week. Ms larem has been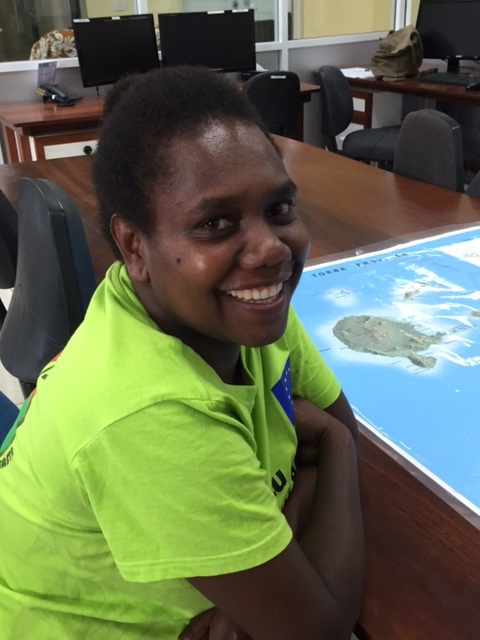 working with the NDMO for the past six years. 'It was a surprise to be appointed as NEOC Controller but it was a real privilege. It has been a very busy week and I have learnt a lot from working with everyone' Ms larem said.
Mr Shadrack Welegtabit who is the NDMO Director said this was a very important milestone and showed there are opportunities for females in leadership roles. 'I am very proud of Alice who has done an excellent job this week to ensure people of Torres and Santo are receiving much needed support. Alice has shown great leadership which will hopefully inspire more women to take on these roles' Mr Welegtabit said.
The Australian High Commissioner to Vanuatu, Ms Jenny Da Rin also offered her congratulations, saying 'the appointment of Ms Iarem into a leadership role within the NEOC sends a positive message to women and girls in Vanuatu and provides a strong role model for the younger generation of girls interested in a career in public service.'
For further information, please contact Mr Shadrack Welegtabit, NDMO Director on email This email address is being protected from spambots. You need JavaScript enabled to view it. or telephone 777 1926.